Types of blepharitis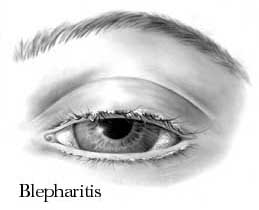 Staphylococcus blepharitis is caused by a germ called Staphylococci, commonly known as "staph." It often begins in childhood and continues throughout adulthood. This form of the condition results in collar scales on lashes, crusting, and chronic redness at the lid margin. Dilated blood vessels, loss of lashes, sties, and chalazia (nodules on the eyelids) also occur.
Seborrhea blepharitis is the most common and least severe form of this condition. It is not an infection but is caused by improper function of the oil glands, which causes greasy, waxy scales to accumulate along the eyelid margins. Seborrhea may be a part of an overall skin disorder that affects other areas. Hormones, nutrition, general physical condition and stress are factors in seborrhea.
Ulcerative blepharitis is a less common but more severe condition that may be characterized by matted, hard crusts around the eyelashes, which, when removed, leave small sores that may bleed or ooze. There may also be a loss of eyelashes, distortion of the front edges of the eyelids and chronic tearing.